So, as I have been preparing to go back to work this week, planning and racking my brain on how I'm going to start off this next school year, I've also been reflecting on the school year I just completed – pros, cons, and all the things I've learned thus far about teaching in Scotland.
The last you heard from me, I had just been offered my first teaching job in Scotland – I hadn't even started yet! Well, now it is safe to say that I survived until the end of the school term and have learned loads! So, as a part of my reflection process, I thought I'd write some things down (because that's how my brain processes information) and share with you some of the similarities and differences between the Scottish and American ways of teaching; and some valuable things I've learned in becoming a teacher in Scotland.
As to be expected there were many things that were different from my past teaching experiences in the States, but surprisingly there were also many things that were the same.
SIMILARITIES
School Organization
For the most part, primary schools are organized in a very similar way to the elementary schools in the states with the exception of vocabulary.
For example:
Scottish:                                                  American:

Head Teacher                                           Principle

Deputy Head Teacher                              Vice Principle

Principle Teacher                                     Similar to a High School Dean – part admin, part teaching.

Curriculum Leader (High School)            Department Chair (High School)

Additional Support for Learning (ASL)     Special Education

Pupil Support Assistants (PSAs)               Instructional Assistants or Classroom Aids

Stage Level                                               Grade Level*

*There are a variety of stages in primary and secondary schools that I will detail out in a later blog.

…and lastly…

Pupils                                                        Students**

**kids are usually not referred to as 'students' in the UK until they reach university (or what we American's call college).  'College' in the UK is similar to Junior College.  In the UK there is a big difference between college and university (or 'uni') where as in American we just call it all college.

(There are also loads of other terms and acronyms that I've had to learn, but I don't want to bore you with the details)
Staff
Another similarity that I experienced was the pleasure of working with a very dedicated staff, committed to their teaching practice, professional development, and their pupils!  I have a very supportive and encouraging Head Teacher and Deputy Head, colleagues who are always willing to help me out and appease my American questions with no judgement, a Support for Learning teacher that knows her pupils' needs inside and out, PSAs who are willing to help in any way possible, and overall a great atmosphere to thrive professionally.
Kids & Parents
I have learned that kids are very similar to the kids in the states as well – they all deal with similar struggles of academia, insecurities, social media and peer pressure, family dynamics, extra-curricular activities, and more. I teach to a diverse pupil population, with an array of backgrounds and needs. There are many English language learners, as there are in my native California, however, the pupils here speak a variety of languages and come from a variety of cultures! At my school (and my kids' school), we have many Romanian, Polish, Italian, Spanish, and French pupils (to name a few!).  Parents, as well, are very similar to parents anywhere – they all want the best for the children, some are involved in school life more than others, some work and some stay at home, and all come from a variety of socio-economic backgrounds.
DIFFERENCES
I could go on and on about all the differences with culture, British language and spelling, Scottish slang, and, as I previously mentioned, the variety in terminology, but I thought I'd try to stick to some of the 'big picture' differences for this section:
As a teacher trained in American, and more specifically California, there are certain aspects of teaching that are ingrained in you from the start of your first teaching course and from your own experiences as a student in school. Things like grades, grading, GPA, and report cards, homework, text books, class test and standardized test, state standards, and bench mark exams. To my surprise, there is very little of this in Scotland.  Let me attempt to break it down:
Grades: I was very surprised that grades are not given for assignments, nor are report cards issued in the same format that American kids are used to. Teachers do 'mark' assignments by giving direct marks or feedback, but pupils also often mark their own assignments followed by a peer or self-assessment.  There are two main peer/self-assessment tools that teachers used: (1) traffic light signals, and (2) Two Stars and a Wish.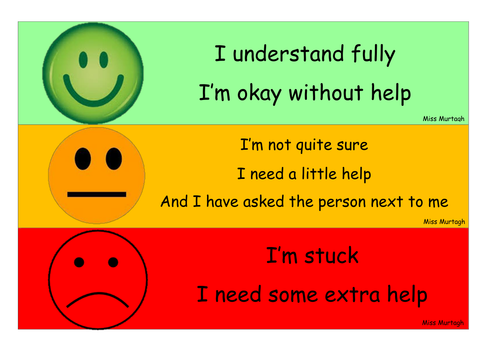 Traffic light colors allow pupils to color code their work to let their teacher know how they feel about the assignment – I often use the happy, flat, or sad face method if I don't want to mess with the kids pulling out their colored pencils.
Two Stars and a Wish is a method of assessment where pupils write down two things they did well or positive parts of the assignment and then follow it up with a 'wish' of something they could do better for the next time.  This is a great tool for peer assessment as well.
Although report cards with grades are not distributed, pupils do receive an end of the year formal report outlining what they have covered throughout the year and the individual pupils progress.  The format of these reports vary from school to school.  These reports require a ton of time to type up!  Luckily, my school's report is a two page format with some boxes to be ticked, which makes the process a little bit less daunting.  However, both my children received 4-page typed up reports from their school!
Teaching Content
Much like the states have 'state standards' in all subjects to be taught and met by pupils each academic year, Scotland calls these standards 'Benchmarks' (which has a bit different use in California).  Unlike the States, these benchmarks are not public domain in the way that the California state standards can be accessed online by anyone.  Teachers use these benchmarks as a guideline for teaching and assessing each pupil's accomplishments. Though, how teachers accomplish and teach these benchmarks can vary from teacher to teacher and school to school.
Unlike most schools in the states where every teacher teaches through a variety of textbooks (which usually map out the standards within the texts and teacher's editions), the only subject that usually uses a textbook here is math, but you are not limited to the use of the single texts.  Instead, teachers use resources – loads and loads of resources – some that the school provides (there are tons of resource closets around the school as well as a resource room packed full!), online resources the school and teachers pay for, and, of course, good ol' Google.  This aspect was one of the hardest for me to get used to by far.  I have always taught from a text.  This resource-driven way of teaching certainly allows for more individual creativity for teachers in forming lessons, but as a new teacher, it was difficult to navigate myself through all the resources that were available to help teach the benchmarks.  Another benefit to this type of teaching is the flexibility to teach all subjects across the curriculum – interdisciplinary learning is a key element in the curriculum, which I have found really enjoyable! (see below for links to various resources)
Trips
Another thing that I have found quite enjoyable is the focus on experiences for pupils – trips and hands on learning is very encouraged, and living in a city like Edinburgh there are loads of opportunities for
free activities (all museums are free to the public)! For most trips, classes will use the public bus system, which also helps keep costs down.  There are also a lot of opportunities to take walking trips as well.  In my short 5 months of teaching Primary 7 (aka 6th grade), my class got to travel to Lady Haig's Poppy Factory during our WW2 study, we walked to the local park twice for outdoor learning activities and a picnic lunch, had 6 weeks of Tennis lessons for PE at Abercorn Sports Club (a short 15 min walk from school), a trip to 'The Hub' to participate in an activity put on by the Edinburgh International Festival, and a trip to the Risk Factory during our topic of health and safety.
Bilingual Education – French
Scotland, as previously mentioned, has a very diverse population of learning from all over since it is still part of the EU; so it makes perfect sense for there to be English language support and also an element of bilingual education – which I absolutely LOVE! Most schools have a French specialist (in the same way they have a PE and Music specialist) that come in once a week to teach French (and some primary schools even do a bit of German). Finally, I've been able to put my petite amount of French that I had learned in High School to good use (although I still regret not knowing Spanish a little bit). I can only imagine what my language skills and opportunities would be today had I started learning another language from Kindergarten.
Other Aspects of the Curriculum
A few other things that I thought I'd mention that are incorporated into the Curriculum for Excellence here in Scotland are the subjects of Health and Wellbeing (HWB) and Religious and Moral Education (RME).  HWB not only covers your typical topics of health (diet, exercise, drugs & alcohol, sex ed, etc) but also covers topics such as peer relationships, problem solving, and life skills.  RME is similar in that teachers can discuss basic moral principles.  RME also allows teachers to discuss religious holidays and practices– which covers not just Christian education but also other world religions.
Other Aspects of School Culture worth mentioning
Assemblies – Schools have assemblies every week.  At my school, assemblies occur every Friday – usually split into lower school (P1-3) and upper school (p4-7) with the occasional all school assembly.  Assemblies serve as a way for classes to present what they are learning to the whole school, a way for the Head teacher/Deputy Head to have face time with pupils, discuss new school focuses, policies and events, and, of course, to celebrate anything great happening at the school or with individual pupils.  In most high schools, assemblies are held every day with a different year group attending each day.
Political Awareness – I've never met so many young people interested and knowledgeable as to
what is going on around the world and in their own country!  The conversations I have had with pupils (especially all their questions about President Trump!) is mind blowing, in a great way!  One way that many schools promote these conversations is by watching BBC's Newsround, every day. Newsround is a short (c. 6 min) update for kids that airs twice a day covering world and UK news. Our kids often bring up Newsround topics and want to discuss them at the dinner table (lucky for me, I know what they are talking about because I watched the same episode with my class as well.)
Golden Time – Golden time is an all school reward system that most schools use here.  For my school, it occurs every Friday for 30 min. All pupils are rewarded Golden time at the beginning of the week; however, depending on their behavior, they can lose Golden Time as the week progresses. I have to admit that as an American teacher, I felt that Golden Time was a big 'waste of time' when I first started, but I've seen the effect that having Golden Time has had on my own kids (something for them to work towards each week) and am slowly changing my feelings towards the reward system.
Half day Fridays – yup, every Friday is a half day! This is a bit inconvenient for working parents, but it makes for a great start to your weekend!
Like I said, there is so much to compare and discuss when it comes to the differences between the American and Scottish ways of teaching, but I thought these were great starting points.  Please feel free to comment below if you have any further questions or thoughts about this new way of teaching I'm working through.
-Leah